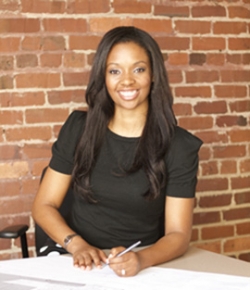 Nicole Hilton
Partner | Design Architect
Passionate | Driven | Creative
A native of Austin, Texas, Nicole Hilton is the founding Partner and Design Architect of Cole Hil. Mrs. Hilton is a talented designer and Architect. Her complex experience in diverse, prominent architecture projects fuels the firm's ability to provide high quality services for our Partners. An alumnus of Louisiana State University, she is honored to be recognized as the first African American female graduate of the LSU School of Architecture to become a licensed architect.
Her decision to establish an architectural firm in 2014  was based on the requirement to uphold 3 principles. The first principle, being a firm of excellence and follow through which leads to successful projects and long-term relationships. Second, fostering an internal environment of creativity, open exchange of ideas, integrity, and intellect, therefore breeding innovative passion which reaps a high quality service. Thirdly, creating signature, refined architecture that makes a positive impact on the community it serves.
In addition to her architectural design expertise, Mrs. Hilton advocates for diversity and inclusion within the design profession and design excellence. She is currently on the American Institute of Architects (AIA) Georgia 2016 Board and an active member of the National Organization of Minority Architects (NOMA) Atlanta Chapter. She enjoys giving back what she has learned by becoming a mentor through the AIA/ NOMA mentorship program and periodically participates in the Kennesaw State University, Georgia Institute of Technology and Louisiana State University architecture school design reviews.
Professional Awards | Publications | Recognitions
2016 American Institute of Architects (AIA) John A. Busby Jr. Award –  Design excellence, AIA leadership, community involvement, firm owner.
Citizen Architect Article
Design Equilibrium – The Mentor and the Mentee by Nicole Hilton and John Busby, FAIA
Diversity by Design – LSU Article – by Angela Harwood
Professional Affiliations
American Institute of Architects (AIA)
– AIA 2016 AIA Georgia Board – At Large Director
National Organization of Minority Architects (NOMA)
Leadership in Energy and Environmental Design (LEED) AP
National Council of Architectural Registration Boards (NCARB)
Atlanta Regional Commission Millennial Committee
Georgia Forward 2016 Young Gamechanger